Units 15-16
Ford Lane Business Park
Ford Lane
BN18 0UZ
Fully integrated Rebar Detector with Data Storage.
More info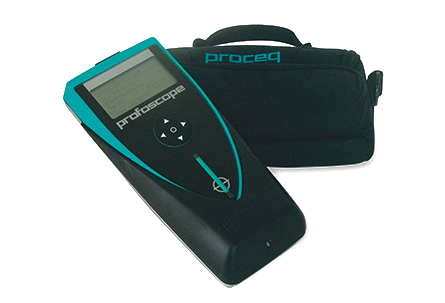 Hire or Buy Today! Call 01243 555 720
Overview
Hammond stock a wide range of concrete covermeters.
The Proceq Profoscope (pictured above) is a versatile, fully-integrated rebar detector and cover meter with a unique real-time rebar visualization allowing the user to actually "SEE" the location of the rebar beneath the concrete surface to a maximum depth of 180 mm. This is coupled with rebar-proximity indicators and optical and acoustical locating aids. Rebar diameter can also be estimated within the specified testing range. The Profoscope combines these unique features in a compact, light device that allows the user to operate this rebar detector with one hand making the task of locating rebars a simple and efficient process.
Features
A rebar detector with real-time visualization of the rebars beneath the instrument
Visual indication of rebars in close proximity
The Profoscope is a rebar detector with the ability to identify the mid-point between rebars as well as the orientation of rebars
Optical and acoustical indication of rebar location and minimum cover alert
This rebar detector offers neighboring bar correction
Regional settings (metric, imperial)
Cordless and single handed operation
Switchable display backlight for dark environments
A rebar detector with icon-based language independent menus
Start-up test kit allows user to familiarize him/herself with all functions in a comfortable environment, wasting no time on site
Manufacturers and models include:
Protovale : Elcometer : Proceq : Hilti
CM52 : Model BH : Model SH : Profometer : Profoscope : Ferroscan
Applications
- Location of embedded steel
- Depth of concrete cover to steel
- Determination of steel bar diameter

Please call us or email us to discuss your technical and commercial requirements: 01243 555 720